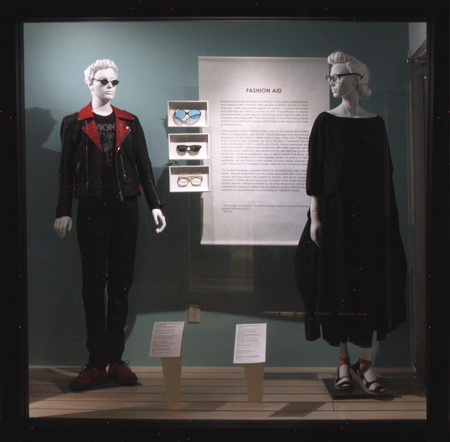 Eyewear can speak of status and identity. It can convey personal style and a sense of self more than other articles of clothing that are not worn every day.  Some may consider glasses as markers of physical deficiencies and avoid their use. Others use them as tools of beautification to correct facial asymmetry or add interest, adornment, and a sense of play in an otherwise understated world. From nerdy to cool, a wide array of associations continue to be linked with eyewear, which makes these objects potent tools of self-expression.
Cult eyewear comes in timeless styles loved by the masses and is often linked to celebrities or subcultures. It is not typically about the frames themselves, but the links to a certain brand or style.[1] From John F. Kennedy to Tom Cruise in Risky Business, the use of Ray Ban's "Wayfarers" frames—first introduced in 1952[2]—continue to convey cultural awareness and group membership. Today's large sunglasses with visible logos can speak volumes about consumers' aspirational aims to own designer goods. If Jackie O's oversized sunglasses came to signify wealth and status, Le Corbusier's diminutive round dark glasses remain the choice of many architects, and the metal-rimmed version is a mod classic adopted by John Lennon and his followers. A simple object can thus be heavily coded.
The multiple meanings of eyewear cannot be dissociated from wider fashion trends. Specific styles have become closely associated with certain time periods and these styles may experience revivals, such as the increased popularity of 1950s cat-eye styles today. Eyewear trends evolve alongside broader fashion changes and wearing out-dated frames is as strong of a statement as wearing out-dated clothing. Beyond simply a medical device, eyewear is a crucial aspect in constructing an individual identity.
---
[1] Neil Handley, Cult Eyewear: The World's Enduring Classics (London and New York: Merrell Publishers, 2011), 7.
[2] Ibid, 67.
---
Introduction | RX | Dose of Design | Fashion Aid | Artifacts in the Exhibition| Press Release |Story in The Quad |2017 Richard Martin Award
Photograph by Anne Bissonnette©
Cite this page (bibliography):
Bissonnette, Anne,
Cybil Cameron, Katelin Karbonik, Naomi Milne, Katie Mooney, Danielle Peel, and Donnalee Riley. "Eyewear: Fashion with Vision – Fashion Aid," Exhibitions, Clothing and Textiles Collection, Department of Human Ecology, University of Alberta Museums, November 23, 2016. [INSERT URL].
LINKS TO ARTIFACTS BELOW MAY NOT BE RELATED TO THIS EXHIBITION