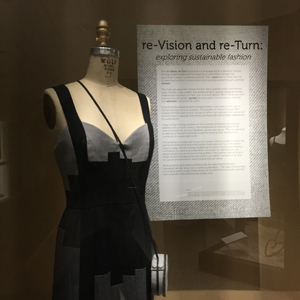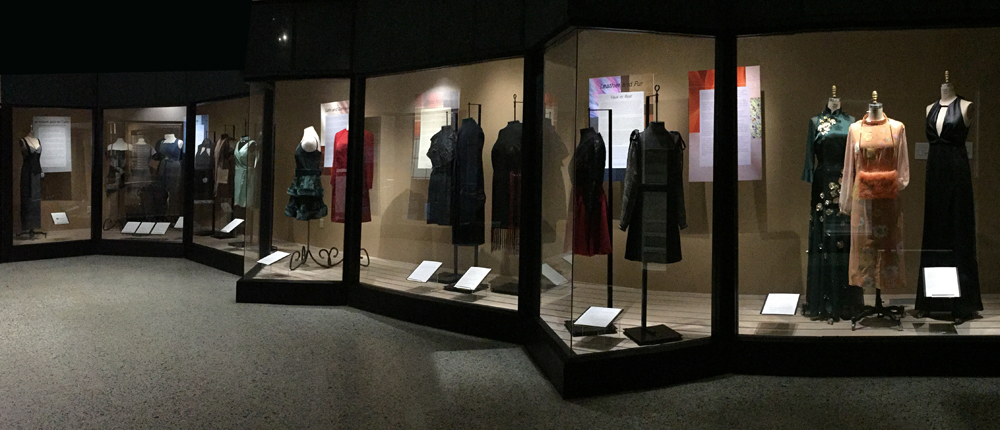 May 14, 2018 – October 23, 2018
Curated by Vlada Blinova and the students from the course "Apparel Design and Product Development II" (HECOL 454).
---
The "re-Vision, re-Turn" exhibition is a message and an inspiration. Human Ecology students explored the meaning of sustainability through the upcycling of used or unwanted clothing. Their vision was to create new life for items rescued from second-hand stores and discovered through wardrobe revision.  The materials used were chosen for their fabric qualities and/or sentimental value. Dresses, coats, jackets, and reclaimed fabric samples served as the raw material and inspiration for new, one-of-a-kind fashion items. Old pieces were diverted from the landfill, turned into new styles of contemporary clothing and returned to an active life cycle.
This exhibition is a response to society's current over consumption of clothing and the environmental and social justice challenges existing in the fashion industry today. Human Ecology students act as artists and activists making a contribution to a growing sustainability movement by offering their own design solutions to an environmental problem. They position upcycling as a means of acknowledging that the world is our habitat, our place to be, and not just an environment in which to promote our wants.
While scientists and industry professionals are searching for answers, individuals can also play a role in textile sustainability.  The hope of this exhibit is to inspire visitors to ask critical questions, be informed consumers, and find new potential in the clothing they already own.
Vlada Blinova and the students from the course
"Apparel Design and Product Development II" (HECOL 454)