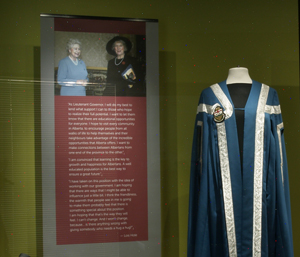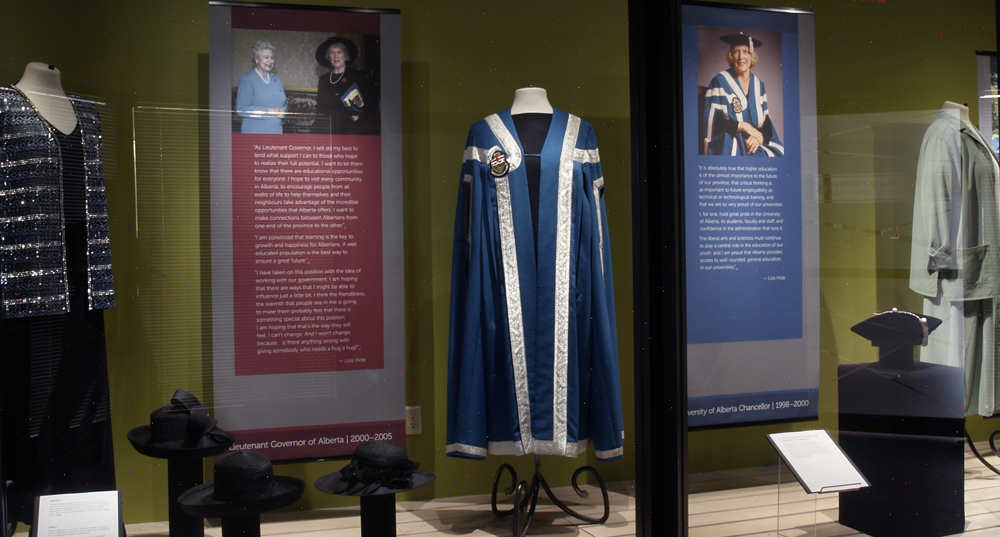 23 October 2014 to 22 March 2015
Vlada Blinova and Lori Moran co-curators. The exhibition team also includes Kim vanderHelm, Darlene Briere-Noren, Jane Batcheller, Karen Fraser, Colleen Nissen, Kathy Frazer and Rebecca Blakey.
---
The exhibition Lois Hole, the Queen of Hugs is dedicated to the life and legacy of Lois Hole (January 30, 1929 – January 6, 2005). A recipient of numerous honours and awards, gardening expert and successful businesswoman, best-selling author and education advocate, giver of hugs and high-ranking public official, Lois Hole was one of Alberta's most beloved citizens. Well-recognized for her roles as Lieutenant Governor of the province and Chancellor of the University of Alberta, Lois Hole was also known and loved for her warm personality. The selection of garments and accessories on display speaks to who Lois Hole truly was: a woman of wide-ranging roles and meaningful experiences. Like her, many outfits are casual and down-to-earth, and reflect a clothing philosophy of practicality and comfort. Lois Hole's family generously donated her favourite casual and dressy outfits to the Clothing and Textiles Collection, Department of Human Ecology. Items of her clothing, jewelry, and photographs from the Clothing and Textiles Collection featured in the exhibition will enrich visitors' experiences and help to create a personal connection with the memory of Lois Hole.
Vlada Blinova and Lori Moran
---
Lois Hole, the Queen of Hugs coincides with the Faculty of Agricultural, Life & Environmental Sciences centennial year and was generously supported by the Faculty of ALES 100 and the Department of Human Ecology.
The exhibition is open to the public October 23, 2014 to March 22, 2015, Monday through Friday from 8:00 am to 6:00 pm at the Human Ecology Gallery (main floor of the Human Ecology Building, corner of 116 St. and 89 Ave.).