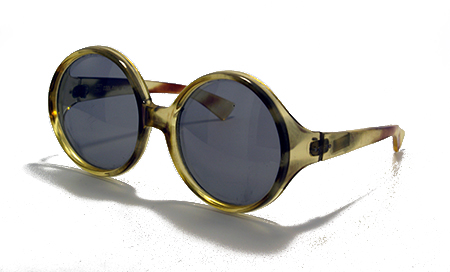 November 23,2016
Anne Bissonnette
The exhibition "Eyewear: Fashion with Vision" highlights eyeglasses in the University of Alberta's Clothing and Textiles Collection and explores the topic holistically from a Human Ecology perspective. We address eyewear as objects that serve a medical purpose and help to improve one's health and well-being; we study frames through the lens of science and design to investigate materials and sculptural shapes; and we focus on fashion to reintegrate eyeglasses use within the fashion system as a mean to convey identity and status.
Few objects have had as immense a societal and personal impact as eyeglasses. In a fundamental way, this single object can transform individual lives, affect literacy, improve learning and, in doing so, impact entire nations. Changing the face of history with its corrective powers, eyewear is also a highly visible element of dress that is part of fashion's arsenal. Worn by billions of people daily, corrective and protective eyewear are both functional, decorative and rich in meaning. Come see the exhibition and visit our Web site to understand how his unique object holds tremendous power and promise.
*
The exhibition runs from Nov. 23, 2016, to Feb. 5, 2017, in the Human Ecology Building on campus (the gallery is accessible via the south entrance and is wheelchair accessible). The exhibit is free and open to the public from 8:30 a.m. to 6 p.m. on weekdays. For more information please access https://clothingtextiles.ualberta.ca/Exhibitions.
The Clothing and Textiles Collection is part of a larger consortium of the University of Alberta Museums, a network of 29 interdisciplinary museums and collections across campus.
This exhibition received a 2017 Richard Martin Exhibition Award from the Costume Society of America. This was the first time in the history of this award that it was given to an exhibition co-curated by students.
For more on this see
from The Quad
---
Introduction | RX | Dose of Design | Fashion Aid | Artifacts in the Exhibition | Press Release |Story in The Quad |2017 Richard Martin Award