Edmonton, Alberta
April 11, 2020
Revised May 7, 2020
For December 2020 update, click here
Dear reader,
You have likely been bombarded by messages regarding the making and use of cloth face masks at home. Like me, you may have wanted to know more about the science behind home remedies offered to the public. As an informed citizen, you may have read information with a critical eye. How do the people interviewed know what they know? Has this been proven or is this a person's opinion? If it is an opinion, is it based on solid scholarly evidence? Misinformation abounds and lives are at risk.
In this May 7, 2020, revised website introduction, I would like to share with you my thoughts on information I have read in peer-reviewed articles, papers waiting for peer review, and in some information presented by governmental agencies, journalists and non-journalists. While peer-reviewed sources were initially my main focus, scientists are getting more reactive during the COVID-19 pandemic because time is of the essence.
When a manuscript is completed (which may take a significant amount of time) and sent for publication, the peer review process may take 9 to 12 months (or more) to account for the peer-review process and the editorial work before an article is accessible online or in print. Many research projects are currently taking place in an accelerated manner. Results may even be made accessible before the peer review process. As a result, peer reviewers and a wider community of scholars vetting the work post publication have had no time to verify, accept (partially or fully) or negate the work. This is how science usually advances with the most valid ideas being pushed further while many other ideas are left behind. I have recently come across an article peer-reviewed in 4 days that had many errors that are bound to affect the authors' conclusions. The peer-review process is not perfect and many other experiments are occurring outside of it: one must remain vigilant when addressing a wide variety of sources.
What appears to be a simple object, the homemade face mask (HFM), turns out to be quite problematic. As a garment made by individuals who are using materials readily found in their surroundings in designs that, like the materials, have not been tested for their effectiveness in preventing infection, this object varies immensely. The primary use of HFMs is to keep the germs of the mask wearer from spreading to others. HFMs are not respirators that aim to prevent the inhalation of virus particles a wearer breathes in, as in the case of N95 masks. As a researcher who deals with textile and dress and as a maker trained as a designer, many questions arose about HFMs that I could not find solid answers for. I am attempting as best I can to present my quest in these webpages. This is by no means an exhaustive piece of research and it doesn't intend to be a definitive piece on the subject of HFMs. As information comes my way, I will update things as much as I can in the time that I have and this will be reflected on the date and time posted in the heading.
While scholarly information is accessible through sites like Google Scholar, few authors of articles appear to have consulted with textile scientists who do research on Personal Protective Equipment (PPE). This is obvious to someone like me who is not an expert on face masks nor a person trained as a textile scientist. There are many pros and cons to a wide variety of researchers doing their best to try to solve the HFM conundrum. Ideas can come from different perspectives and this can allow for innovative solutions that a person trained in only one field of study may not have considered. Interdisciplinary research requires collaboration, a lot of humility from all participants and an opened mind to solve the problems we are now facing.
One of the most deplorable situation I have found thus far reading more recent peer-reviewed scientific literature is the lack of understanding or interest on fibres and fabrics and their properties. There is a great deal of knowledge there that is lacking in many otherwise valuable research projects. Many authors will, for instance, talk about fibres and fabrics as one. While cotton is a fibre, it can be used for a variety of fabrics and can come in loosely-woven textiles, such as plain-weave cheese cloth or gauze, to dense twill-woven denim. Not only must fibres (cotton, wool, silk, polyester, etc.) and weave structures (plain weave, twill weave, crepe weave, etc.) be identified by researchers but other factors such as thread count matter as well.
Scientists often describe a textile use (ex. towel, pillow case, scarf, etc.) rather than describing the components that are part of its material composition, structure and possible chemical treatments. Not all scarves or sheets are the same! If research is to advance forward, it much be replicable and simple saying "a high thread count cotton sheet" is insufficient (for our purposes today, the fibre, thread count and weave structure is sought (ex. 280 thread per inch 100% cotton plain weave)). The information presented in this website aims to address this situation in light of this gap in textile knowledge.
You may have gone online to get answers on how to make a cloth face mask at home and what type of materials to use. Three separate issues have made me weary of the current coverage on these topics. Firstly, the lack of rigorous scientific evidence offered to the general public; secondly, the lack of knowledge of textile products for many scientists; thirdly, the lack of solutions and/or testing for over 4 billion adults who must wear glasses and masks simultaneously. My findings hope to address all of these topics to suggest an improved multiple-use product that can be made at home.
Anne Bissonnette, PhD
Associate Professor, Material Culture and Curatorship
Human Ecology Department
University of Alberta
Curator, Anne Lambert Clothing and Textiles Collection
Harold William Sellers, editor and contributor
---
TABLE OF CONTENT (click on the main headings for access):
1A. Government of Canada
1B. Government of the United States of America
1C. Explanation of the Minor Differences Seen in the Canadian and American Sites Presented in 1A & 1B
1D. Problems Encountered in the Design and Use of the No-Sew Models Presented in 1A & 1B
2. PEER-REVIEWED SCIENTIFIC INFORMATION (1918-2013: History & Limited Research Scope)
2A. Pros & Cons
2B. Scholarly Findings and their Impact on Cloth Face Masks Making & Use
2C. Bibliography of Works Cited in this Section
3. PEER-REVIEWED SCIENTIFIC INFORMATION (2008-2020: Advanced Testing)
3A. Pros & Cons
3B. Scholarly Findings and their Impact on Cloth Face Masks Making & Use
3C. Surface Coating & Care for Re-use
3D. Bibliography of Works Cited in this Section
4. TURNING SCIENCE INTO SOLUTIONS FOR THE PUBLIC GOOD (Solutions for the Making, Use & Care of Homemade Cloth Face Masks Based on Evidence)
4A. Designs
4B. Materials
4C. Putting on and Removing Your Mask & Care for Re-use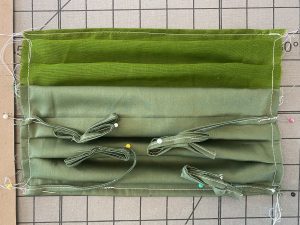 ACCESS TO STEP-BY-STEP INFORMATION FOR
2020/04/11 BISSONNETTE EYEWEAR-FRIENDLY, TWO-LAYER MASK WITH ROOM FOR A THIRD LAYER
V1 (Version 1 – same fabric all over) & V2 (Version 2 – dense fabric out and loose fabric in)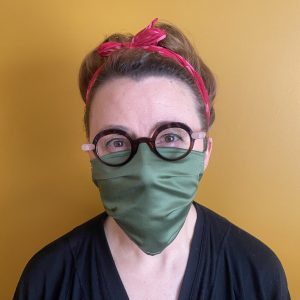 ACCESS TO FIT INFORMATION FOR
2020/04/11 BISSONNETTE EYEWEAR-FRIENDLY, TWO-LAYER MASK WITH ROOM FOR A THIRD LAYER
V1 (Version 1 – same fabric all over) & V2 (Version 2 – dense fabric out and loose fabric in)
THE 10 PRONOUNCEMENTS
1
WEAR A MASK
Any mask is better than no mask at all but all masks are not created equal
2
IN TIMES OF SHORTAGE, REFRAIN FROM GETTING N95 & MEDICAL/SURGICAL MASKS
unless you are a health care worker or person providing direct care to COVID-19 patients
3
MASK ADOPTION MUST BE IN ADDITION TO OTHER PRESCRIBED MEASURES
A mask is not a solution by itself
4
GO FOR A DESIGN THAT ALLOWS THE INSERTION OF A NON-WOVEN TEXTILE
Non-woven cloths are sought after for the randomness of their fiber orientation and their 3D web structure. This provides filtration efficiency and allows the capturing of particles of much smaller size.
5
BREATHABILITY IS CRUCIAL
Excessive layering can backfire as the air will take the path of least resistance and bypass the filtration of your mask
6
TEST TEXTILE LAYERS (2 WOVEN in MASK & 1 NON-WOVEN for FILTER) AND GO TO THE HIGHEST POSSIBLE THREAD COUNT TEXTILES YOU CAN BREATHE THROUGH
7
AIM FOR A TIGHT FIT
A good seal between the edges of the mask and your face increases its effectiveness
8
ALWAYS HANDLE YOUR MASK AS IF IT IS CONTAMINATED
Do not touch the main section: handle it by the ties or elastics that secures the mask, place it in a paper of plastic bag that gets sealed shut, always wash your hands after touching your mask.
9
WASH & DRY REUSABLE MASKS THOROUGHLY AFTER EACH USE
Best to keep it on until you have a place to isolate or wash it
10
REMEMBER THIS IS MOSTLY FOR OTHERS BUT FOR YOURSELF TOO
While a well-fitted mask worn properly can protect the public from the wearer of the mask, the mask can also protect you from touching your own face
* * *