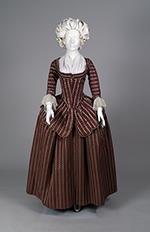 Brown Striped Caraco (Jacket) and Petticoat
ca. 1780
Silk brocade, linen lining, silk tape, cotton plain weave sleeve ruffles
Clothing and Textiles Collection, 2014.1.4 a,b (acquisition)
Mount by Sarah Woodyard, Graduate Student
Hair by Anne Bissonnette, Instructor
Displayed inside out to highlight the backstitches. These stitches are quite large to enable rapid production.
All photographs by Anne Bissonnette©
Cite this page (bibliography):
Bissonnette, Anne, Larisa Cheladyn, Stephanie Huolt, Robyn Stobbs and Sarah Woodyard. "11-SN 2014.1.4." Stitched Narratives, Clothing and Textiles Collection Web site, Department of Human Ecology, University of Alberta, July 15, 2015. [INSERT URL].