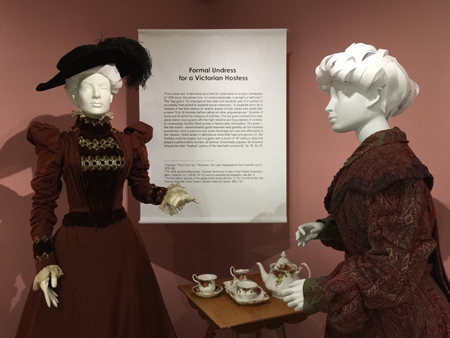 "Five o'clock tea" is described as a time for sustenance in a lady's newspaper of 1878 since "the dinner hour, in London especially, is at eight or half-past."[1] The "tea gown" (5) emerged at this date and became part of a system of sociability that aimed to expand social networks.[2] It could be worn by a hostess in her front parlour to receive guests of both sexes who could stay a mere 15 to 30 minutes before calling on other acquaintances.[3] It spoke of home and fit within the category of undress. The tea gown evolved from one-piece interior wool gowns with the high neckline and long sleeves of undress, to increasingly fanciful fitted gowns in fashionable silhouettes. The gown—like the event—demonstrated good manners and gentility as the hostess poured tea, once a precious and exotic beverage but now one affordable to the masses. While ladies in attendance wore their hats and gloves (3), the hostess could be singled out in a gown with a touch of 18th-century style that played a performative function at teatime. Immensely popular, its essence shaped the later "hostess" gowns of the twentieth century (6, 7a, 7b, 8a, 9).
---
[1] Hausfrau, "Five O'clock Tea," The Queen, The Lady's Newspaper & Court Chronicle, June 20, 1878, 489.
[2] For 1878, see Anne Bissonnette, "Victorian Tea Gowns: A Case of High Fashion Experimentation," Dress 44, no. 1 (2018): 10. For women's sociability and expansion, see ibid., 6.
[3] For front parlour, see ibid., 5. For guests of both sexes, see ibid., 17. For 15 to 30 minutes, see Florence Howe Hall, Social Customs (Boston: Estes and Lauriat, 1887), 120.
Be My Guest: The Performance of Femininity through Food & Fashion
9 April to 25 October 2019
Carolina Amaral,  Anne Bissonnette, PhD, Elizabeth Brandeau, Leah Hrycun, Katelin Karbonik and Amber Peters, exhibition co-curators