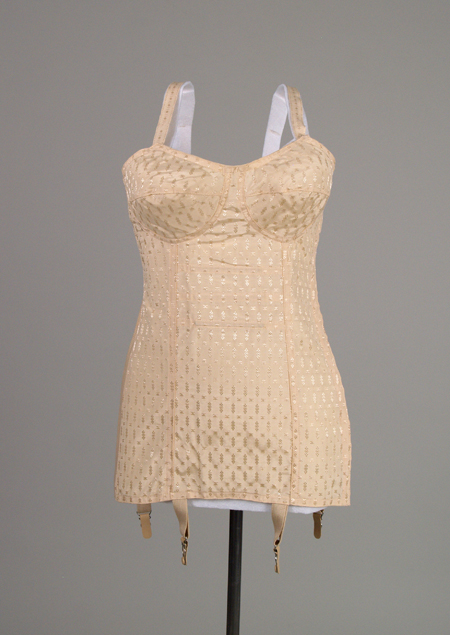 Peach Brocaded Corset
Unknown creator, Canada, ca. 1935-1955.
Possibly of silk fabric with a geometric brocaded design. Boning in back and center front, elasticized garter straps at bottom, metal hook and eye side fastening, and elasticized sides. Ribbon shoulder straps.
Human Ecology's Clothing and Textiles Collection.
Donated by David Pollak (1986.16.19).
Flosshape donated by Just Be Cos.
Mount by Josée Chartrand.
Photographs by Anne Bissonnette©
THIS CORSET IS ONE OF THE MANY FORMS OF BODY MODIFYING UNDERGARMENTS POPULAR DURING WWII. THE FLATTENED STOMACH, REDUCED HIPS, AND POINTED BUST ARE INDICATIVE OF THIS ERA'S SILHOUETTE.