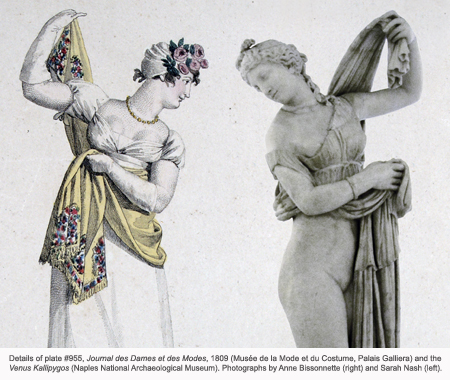 Following the excavation of Herculaneum and Pompeii, the 18th century experienced a resurgence of interest in Greco-Roman culture that came to be called Neoclassicism. Art and architecture reflected these discoveries: houses, interiors and dress increasingly copied classical aesthetics.
While there are no extant examples of combining a Roman woman's head with the body of the Venus Kallipygos in antiquity, this practice is seen in the ca. 1780 statue of King Gustav III's mistress, Countess Ulla von Höpken. Courtier Gustaf Johan Ehrensvärd ridiculed the Countess for her immodest behavior and was surprised that she "…can offer herself for this task and allow her body and her lovely nakedness to become the object of general imagination."1 But mores were changing and, as Louis-Sébastien Mercier's quote stated in the introductory panel suggests, our Venus was affecting fashion.
The love of marble statuary devoid of color or ornament led to a rise in minimalism and a lighter color palette with white reigning supreme by the century's end. The classical sculptor's ability to show the body through dress led to the growing use of light cotton muslin and greater corporeality of dress. Through soft folds and sheerness, muslin could delineate or cling to the body. The new "chemise" gown2 emerged in the 1780s and became a standard by the early 19th century. It was shocking at first as it resembled an undergarment and was read as skin by proxy. Belted or assembled to the skirt below the bust, it could delineate the "natural" breasts uncompressed by 18th century corsetry and thus greatly paralleled the Venus Kallipygos in several ways.
Anne Bissonnette, PhD, Co-curator
_______
1 Gustaf Johan Ehrensvärd and E. V. Montan, "Gustaf Johan Ehrensvärd's Diary," in Dagboksanteck Förda Vid Gustav III Hof, Del 2: Journal för år 1780, Bref Och Minnen 1770-1779 Samt Ministerdepescher 1780-1783 (Stockholm, 1878), 139f.
2 To see the portrait of Yolande Duchesse de Polignac displayed in the exhibition scroll down to the third visual on the Wadsworth Atheneum's link  http://www.thewadsworth.org/medieval-to-monet-french-paintings-in-the-wadsworth-atheneum/.
---
Cite this page (bibliography):
Bissonnette, Anne, Sarah Nash and Loretta Yau. "Neoclassical Dress." The Re-Birth of Venus: Fashion & the Venus Kallipygos, Exhibitions, Clothing and Textiles Collection, Department of Human Ecology, University of Alberta Museums, May 3, 2013. [INSERT URL].