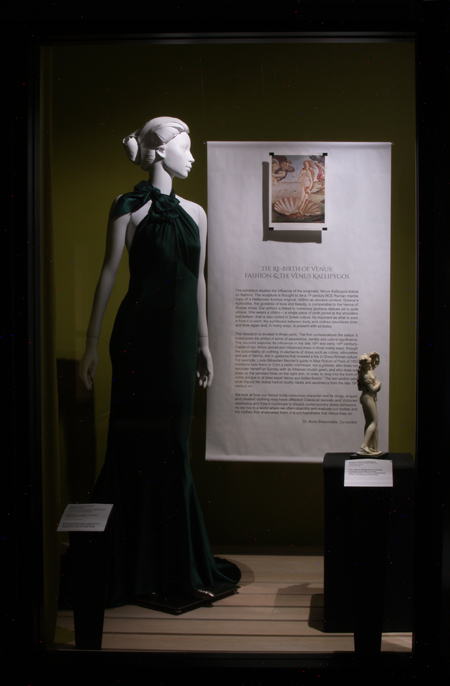 The exhibition studies the influence of the enigmatic Venus Kallipygos statue on fashion. The sculpture is thought to be a 1st century BCE Roman marble copy of a Hellenistic bronze original. Within an ancient context, Greece's Aphrodite, the goddess of love and beauty, is comparable to the Venus of Roman times. Our artifact is linked to numerous goddess statues yet is quite unique. She wears a chiton — a single piece of cloth joined at the shoulders and belted—that is also rooted in Greek culture. As important as what is worn is how it is worn: the symbiosis between body and clothes resurfaces time-and-time-again and, in many ways, is present with us today.
The research is divided in three parts. The first contextualizes the statue: it investigates the artifact in terms of appearance, identity and cultural significance. The second explores its influence in the late 18th and early 19th century. Copies of our Venus spread and influenced dress in three visible ways: through the corporeality of clothing, in elements of dress such as colors, silhouettes and use of fabrics, and in gestures that revealed a link to Greco-Roman culture. For example, Louis-Sébastien Mercier's quote in New Picture of Paris of 1800 mentions how there is "[n]ot a petite maîtresse, not a grisette, who does not decorate herself on Sunday with an Athenian muslin gown, and who does not draw up the pendant folds on the right arm, in order to drop into the form of some antique or at least equal Venus aux belles fesses." The last section asks what impact the statue had on bodily ideals and aesthetics from the late 19th century on.
We look at how our Venus' body-conscious character and its clingy, draped and pleated clothing may have affected Classical revivals and Victorian aesthetics and how it continues to impact contemporary dress behaviors. As we live in a world where we often objectify and evaluate our bodies and the clothes that showcases them, it is our hypothesis that Venus lives on.
Anne Bissonnette, PhD, Co-curator
---
Cite this page (bibliography):
Bissonnette, Anne, Sarah Nash and Loretta Yau. "Introduction." The Re-Birth of Venus: Fashion & the Venus Kallipygos, Exhibitions, Clothing and Textiles Collection, Department of Human Ecology, University of Alberta Museums, May 3, 2013. [INSERT URL].