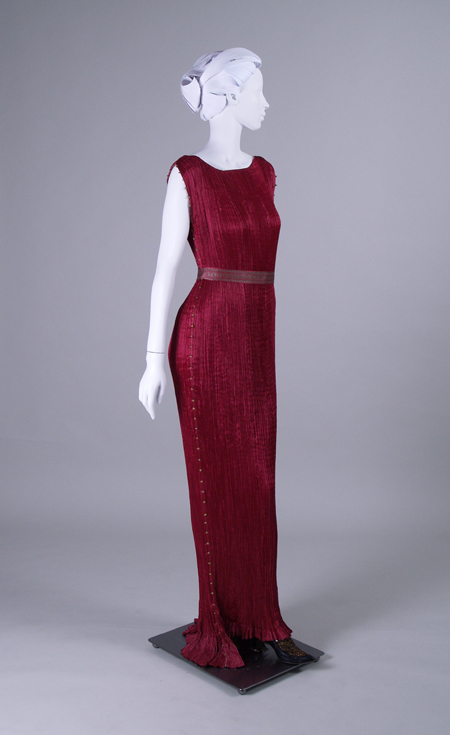 Crimson "Delphos" Pleated Silk Dress with Gold-stenciled Belt
Designed by Mariano Fortuny, Venice, Italy.
Purchased in Paris, France, by Mrs Thankmar von Münchhausen (1895-1974) in the late 1930s.
Silk and Murano glass beads.
Loan by the Speyart family, The Netherlands.
Worn with
Embroidered Red Shoes
J. Pinel, Paris, ca. 1920s
Silk, beading and metal embroidery.
Human Ecology's Clothing and Textiles Collection,
Donated by Banff Centre Of Fine Arts, 1981.13.82ab
Paper hair by Loretta Yau.
All photographs by Anne Bissonnette©
---
Sponsorship for this exhibition has been provided by
Holt Renfrew and Redefining Eve.
Cite this page (bibliography):
Bissonnette, Anne, Sarah Nash and Loretta Yau. "The Re-Birth of Venus: Fashion & the Venus Kallipygos." Exhibitions, Clothing and Textiles Collection, Department of Human Ecology, University of Alberta Museums, May 3, 2013. [INSERT URL].