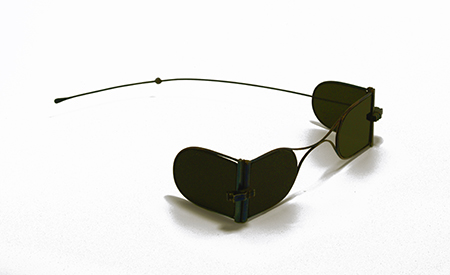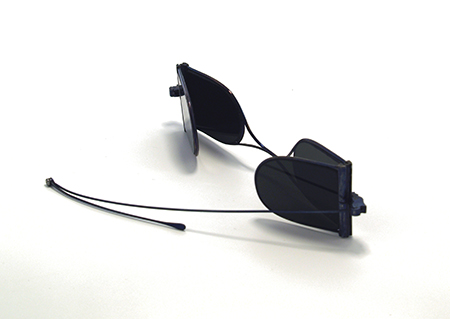 Blue D-Framed Sunglasses with K-Shaped nosepiece, Double Lenses and Turnpin Sidebars
Unknown creator and place of origin, ca. 1820s-1875.
Metal frame and black lenses.
Human Ecology's Clothing and Textiles Collection.
Donated by Bill Carmichael (2013.6.1).
Also known as "railway spectacles" these types of eyeglasses were worn in the open carriages of early rail travel. The side panels helped to protect the eyes from various hazards such as dust, soot, sparks, wind, and light.
Photographs by Anne Bissonnette©
Cite this page (bibliography):
Bissonnette, Anne, Cybil Cameron, Katelin Karbonik, Naomi Milne, Danielle Peel, and Donnalee Riley. "2013.6.1," Eyewear: Fashion with Vision, Clothing and Textiles Collection Web site, Department of Human Ecology, University of Alberta, November 23, 2016. [INSERT URL].