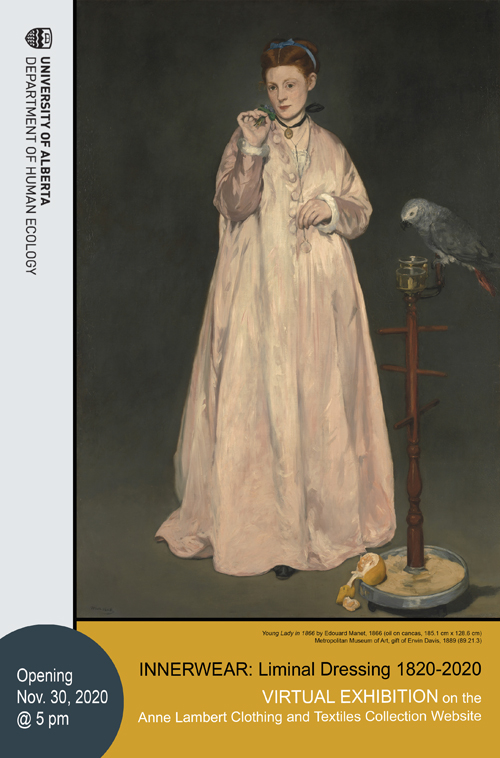 Curators
Anne Bissonnette, PhD, Bronwyn Bates, Rhonda Buie, Emma Carr, Juli Grombacher, Frances Heaton, Danielle Klatchuk, Evelyn Leung, Diana Leyva Luciano, Ariane Mendoza, Thomas Osterling, Nicole Morozewich, Emma Ross, and Chloe Schell.
---
Press Release for Innerwear: Liminal Dressing 1820-2020
With the COVID-19 lockdown, working and learning from home have opened the doors to the world of liminal dressing. The boundaries between our public and private spheres begin to blur as we continue to meet at home through videoconferencing. The virtual exhibition "Innerwear: Liminal Dressing 1820-2020" explores the concept of "undress" over the past 200 years through thoughtfully selected artifacts from the Anne Lambert Clothing and Textiles Collection and other various institutions. Functionality, comfort, modesty and social status are addressed as integral factors in understanding our choices of dress, even in the liminal spaces of our homes.
Join us for the grand opening of the virtual exhibition on Monday, November 30th, 2020 at 5pm MST as student co-curators of the exhibition take you through past centuries of innerwear. To RSVP for the event, visit our Eventbrite page.
The virtual exhibition and its opening are free and open to the public.
The curatorial team would like to thank all who donated through our Community Funded crowfunding platform!